About Sutors' Hauf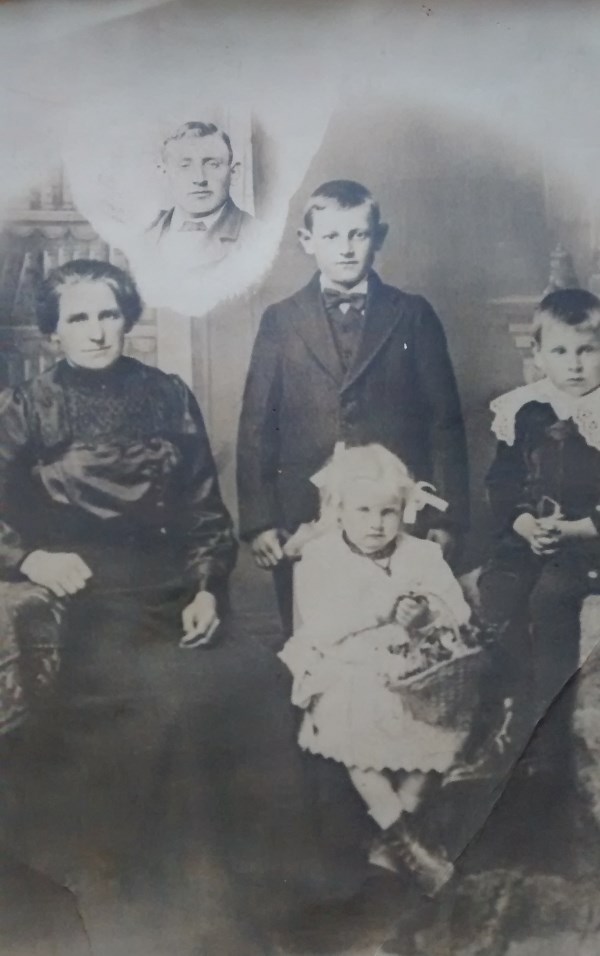 Sutors' Hauf (Sutors' Half) is what we named No.5 Society St., Fishertown, Nairn. 5 Society St has been in the Ellen family for generations and was renovated in 2015 by Dee Ellen. The Ellens are one of the traditional fishing families of Fishertown, with ancestry traced back hundreds of years.  The house was named in honour of Dee's Grandad,  David Main Ellen.  He lived in the right hand half of the house, next door to his aunt and then his son David and his family. Dee's Dad, Hugh, was brought up in the house along with his brothers John and David. We think it must have been quite a squeeze and by all accounts Granny Ellen had quite a task feeding 4 hefty men from her tiny kitchen under the stairs.
David Main Ellen can be seen on the far right of the photo with his mother, brother and sister. Taken during the 1st World War, his father would have been away but has been superimposed. By all accounts, David M Ellen was quite a character about town and his nick-name "Sutors" was derived from an incident during his youth.
For some reason (maybe a dare?) David decided he would take a swim North, across the Moray Firth to Cromarty. This is no mean feat as Cromarty is almost 10 miles over the water and the Moray firth, although sheltered, has very strong currents.  The entrance to the Cromarty Firth is guarded by a hill on either side, known as the "Sutors".  Having reached the mouth of the Cromarty Firth, in the water between the Sutors of Cromarty, he spotted one of the Nairn fishing boats and casually swam up along side to say hello.  Naturally the Fisherman was rather surprised to see his friend and neighbour bobbing up and down in the Firth and offered him a lift home.  The nickname "Sutors" stayed with him from then on. Dee's Dad, Hugh, also told a good story of rowing over to Cromarty for a Dance, but that's one for another day.
Unusually, 5 Society St remained 'unmodernised' until 2015 when Dee and her partner, Amy took on the job, adding the house's first toilet and shower in the old scullery and integrating the new kitchen into the living room. An original Edwardian fireplace was also uncovered and restored and much of the original lime plasterwork was also uncovered and restored to it's former glory.